Jeremy Jones: What next for boarding's king of the mountains?
The ten-time Big Mountain Rider of the Year has gone Deeper, Further and Higher, but where does he go from here?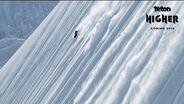 2:47
Jeremy Jones' Higher: Trailer 1
928 Views
Jeremy Jones was standing right in front of me. I shook his hand and then watched as he walked on stage to introduce his new film Higher in front of a packed and cheering Union Chapel in London.
Still, as I watched him on screen, carving down the Grand Teton just metres away from a 1000ft drop to certain death, I couldn't feel sure that he was going to get out alive. Even more so when, as they waited to abseil over the cliff face, tons of snow and sluff flowed down on top of the four riders threatening to sweep them right off the vast mountain.
This is pretty much how I felt watching the entire Deeper, Further, Higher trilogy in which American rider Jones takes big mountain snowboarding to new levels. From first descents of seemingly unridable faces in the Himalayas to month-long missions to uncharted areas of Alaska, it's incredible viewing – so much so that it's hard to imagine him getting home safe even when, somehow, he clearly has.
It's all about riding to live another day. It's important to have that attitude
As Jones says himself, the journey that got him there is in many ways even more remarkable. He was born in Cape Cod, Massachusetts where there are more beaches than hills. He fell in love with snowboarding quickly though and, after a spell in hard boots on the race circuit, he headed to Jackson Hole with his brothers and discovered freeriding.
Alaska became his spring home but before long even the legendary lines of the state nicknamed The Last Frontier wasn't enough for Jones. Heli-trips were crowding the slopes and he was tired of the same old faces.
"I wanted to go deeper," he said. "That meant going to ranges I knew really well but out past the boundaries, and that boundary was what you could do in a day.
"I knew that if I could sleep in a tent and figure that out then I had so much more to choose from. Then if that worked I could take it to all these unknown ranges around the world.
"And if that worked I figured as a snowboarder I'd be able to step it up to bigger lines. And that's Higher. These films basically document where I'm at as a snowboarder."
Although the trilogy of films totals about four hours of adrenaline-fuelled viewing time they took more than six years to make. Some shots, however short, took days, weeks and even months to achieve.
Most of this time was spent researching unknown areas, collecting data for snowpacks that had never been tested and making sure every precaution was in place to ensure the crew return home safely.
"I think it's all about riding to live another day," added Jones. "Anyone that has made it and had a long career in any of these action sports, they may come off as nonchalant and cavalier but there's a lot more going on.
No, I don't want my kids to do what I did!
"You'll get broken off real quick if you're making decisions based on ego and not putting much thought into it.
"When I go to the mountains I'm looking for reasons to turn around. A climb and a descent is guilty until proven innocent. It's really important to have that attitude."
Throughout his career Jones has been passing on his incredible knowledge of the backcountry to fellow riders and the next generation of snowboarding. The ten-time Big Mountain Rider of the Year has also developed his own unique brand of eco-friendly split-boards, Jones Snowboards, and started the environmental movement POW, Protect Our Winters, that has had an audience at the White House.
Many of Jones' riding partners in the trilogy are experiencing big mountain riding on his level for the very first time and he believes that there will be plenty of talent to pick up where he has left off. Although his young children won't be amoung them.
"No, I do not want my kids to do what I did," he added. "I want them to love the mountains so I can experience it with them but hopefully they don't love them quite as much as I did!"
"One of the underlying goals of these films was to show people that there's world class lines, the best in the world, that can be done on foot.
"The kids in their early 20s that are coming up and going 'this is great. I don't have to move to Whistler and own a snowmobile'. There's so much exploration to do that doesn't require this massive heli budget or snowmobiles."
Having left that legacy, what's next for the man himself? Although we might not see him climbing up world renowned peaks, breaking records and blowing-minds in a sequal to Higher, he is by no means hanging up his boots.
"For me it's always been about being able to snowboard on a regular basis. The movies have been a part of that. I'm grateful and confident that snowboarding will continue to be a huge part of my life.
"The love that I have for snowboarding now is probably greater than it's ever been so we'll see what happens."
Deeper, Further and now Higher are all available on iTunes.
Channels: Snowboard