Burton European Open 2015: Highlights and Results
Ipod and Clark take back Halfpipe crowns, Sandbech and Prior send it in Slopestyle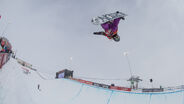 2:20
Burton European Open 2015: Halfpipe Highlights
246 Views
The World Snowboard Tour's new Pro Series kicked off this week with the legendary Burton European Open in Switzerland.
Stale Sandbech beat Mark McMorris to the top spot in men's Slopestyle while Christy Prior took the women's title.
And in Laax's massive halfpipe, the biggest in the world, Olympic gold medalist Iouri Podladtchikov and Kelly Clark came out on top.
It was a snowy week in the Swiss Alps and eliminations had to be cancelled in Slopestyle, but it didn't dampen the spirits of the Hawaiian-themed event.
The final was a mammoth contest as a result with 32 men and 16 women competing for the top score.
X Games gold medalist McMorris set the standard with his 85.60 but Sandbech stepped it up with his final run to land a 91.40, while Torstein Horgmo's 83.25 earned him third place.
"I wanted to be on the podium so bad and I knew it would be hard with so many good riders," said Sandbech.
"Laax is a very special place for me because I had my first international contest here years ago."
In the women's event New Zealand rider Prior added to her X Games Aspen bronze by beating Olympic champion Jamie Anderson to the top of the podium with Enni Rukajarvi in third.
On the final day of the Open, Podladtchikov continued his comeback from injury in perfect fashion by posting a winning score of 90.25 in the Halfpipe finals.
He picked up World Championship bronze after recovering from an ankle injury just in time to compete earlier this month and did the same at X Games Aspen a few days later.
But the Swiss boarder found himself back on the top step on home soil in Laax, with Ayumu Hirano finishing second and David Habluetzel in third.
"It is so amazing to win here because it is the place where I started to ride the halfpipe," said Podladtchikov.
"The level of riding was great and the pipe is getting better and better every year. "The Burton European Open is always such a great event."
Clark grabbed a record sixth European Open win in the women's event, recording a top score of 85.24 on her opening run.
She got revenge on 14-year-old Chloe Kim, who knocked her off the X Games throne this month, beating her to the title with Nadja Purtschert coming in third.
The next event on the World Snowboard Tour Pro Series is already underway, with the Mammoth Mountain Grand Prix kicking off on Monday 2nd February.