Danny MacAskill: London Loop is biggest thing I've done
Mountain Bike legend Danny MacAskill blew minds again on Wednesday night as he hit a massive 5m loop while floating on the Thames in London.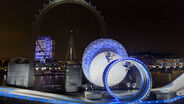 2:37
3.147 Views
The Scottish trials rider, who teamed up with Microsoft to make the stunt happen, had kept it top secret despite the epic location on the water right in front of the London Eye.
And despite the awe-inspiring edits we are used to Danny producing, he admitted this trick was one of his best yet.
"It's definitely the biggest set up I've ever ridden and the fact that it's floating on water is new for me as well," he said.
"I was approached by Microsoft about coming up with the biggest trick I've ever done, floating out in the Thames and we came up with this!
"It's been about four weeks in the planning. It's by far the biggest thing I've ever ridden."
MacAskill has had quite a year. He started the summer by releasing the much-anticipated trials film Epecuén before taking his bike into the Playboy Mansion.
He then jumped back on his mountain bike and returned home to the Isle of Skye to film The Ridge, which received over 20 million views in a matter of weeks.
But even the best of us get nervous on a big night. "It was pretty nerve racking being up the top there," he added.
"It's not often that I do live events to this scale. To have it all resting on me nailing it first go was a little bit of pressure."
After an incredible 2014, who knows what Danny MacAskill will come up with next.
Channels: Mountain Bike