Bernardo Cruz takes Taxco Urban Downhill title
Brazilian wins epic city race while Filip Polc celebrates overall victory.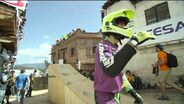 2:20
Downhill Taxco 2014: Highlights
3.304 Views
Bernardo Cruz won the 2014 Taxco Downhill in Mexico this weekend in an incredibly close battle with overall City Downhill World Tour winner Filip Polc.
Slovakian urban racing specialist Polc had won the opening three stops on the tour but Cruz finished faster in Taxco by just 0.54 seconds.
Tomas Slavik rounded off the podium to ensure he finished third overall while Mick Hannah's sixth-place finish on Saturday was enough to earn second overall.
And although Polc could not finish a clean sweep of the four stops on the newly-formed tour he had reason to celebrate after officially taking the 2014 Championship title.
With the UCI World Cup season well and truly over for the year a host of world class riders travelled to Mexico to try their hand at urban downhill.
Bas Van Steenbergen, Brett Rheeder, Remy Metailler, Antoine Bizet and even 14-year-old Finn Iles, who won the Whip-Off World Championships earlier this summer, hit the concrete in Taxco.
But a more familiar name was missing from the finals start list after Marcelo Gutierrez suffered a nasty injury in qualifying and was unable to mount a challenge for a spot on the overall podium.
Polc was last to go and just failed to match Cruz's impressive time in a race that lived up to urban downhill's reputation for having extremely narrow margins.
Elsewhere, Bizet won Best Trick with a stunning front flip in front of the thousands of screaming fans that lined the streets.
With the City Downhill World Tour done and dusted for the year plans for the 2015 season will begin immediately after talks to extend the race calendar to include up to seven races.
Click here for Filip Polc's epic, second-place run in POV!
Channels: Mountain Bike