Andreu Lacondeguy finally wins Red Bull Rampage
Andreu Lacondeguy broke his curse at Red Bull Rampage on Monday with a mind-blowing final run that landed him top spot on the podium for the first time.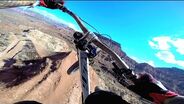 1:23
Red Bull Rampage 2014: Andreu Lacondeguy's Winning POV
4.111 Views
The Spanish rider finished fourth at each of the last three Rampages, narrowly missing out on the podium, and went all out at the new site in Utah to make sure it didn't happen again.
And he sealed an emotional win with an incredible score of 95.25 after stomping one of the fastest and steepest lines of the week, which included a 72-foot drop.
The monster score was enough to see off competition from Cam Zink in second, who won best trick for a huge 360-drop, and Brandon Semenuk who sealed the FMB overall title with third place.
But 25-year-old Lacondeguy was the man celebrating after sealing a deserved win at freeride mountain biking's biggest event, and said it was a dream come true.
"I'm super happy," he said. "I got fourth the last three years, and this year I knew that I was going to do whatever it took to get on top.
"This week has been crazy, with the building and the stress from the weather but I got a lot of help from my crew and friends and I'm just so stoked that it worked for me.
"I rode the FEST Series all year and I've been going big all year getting ready for this and to finally get here and walk away with first is amazing and a dream come true for sure.
Riders descended on the new Rampage site early last week to start scoping their lines and there were early signs it was going to be a contest to remember.
Kelly McGarry went down hard on the first day of practice, attempting the massive 75ft canyon gap but Graham Agassiz and Lacondeguy stole the show with their insane line.
Canadian Agassiz finished on top of qualifying after a ridiculous run and score of 94, which included the same drop Lacondeguy hit in the final.
But after his riding partner was injured in practice ahead of yesterday's finals Red Bull rider Lacondeguy picked up where he left off with a flawless run of his own.
He had a nervous wait to see if he would need to take a second run but watched Zink come in with a score of 89.50 and Semenuk earn 89.25 – enough to seal the FMB World Tour title at the expense of Brett Rheeder.
For all the best highlights from Red Bull Rampage 2014, including crazy canyon gap backflips, head to our MTB section on Extreme.com here.
Channels: Mountain Bike