UCI XCO Offenburg - Results
The third round of the Mountain Bike World Cup presented by Shimano, in Offenburg, Germany, saw extremely fast racing and a clean sweep of French victories on the final day of competition.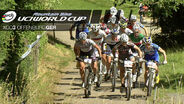 33:22
Highlights Women's race UCI World Cup 2011 XCO3 Offenburg - GER
7.677 Views
In the Elite Women's race, Julie Bresset (BH Suntour Peisey Vallandry) took her second consecutive victory against a high quality field that was missing only one top rider - round one winner Ren Chengyuan, who injured her back in a training crash. Bresset had to battle against an extremely strong defending champion in Offenburg Catharine Pendrel (Luna), but the young French rider was able to attack just before the start of the final lap and hold on to win and extend her lead in the overall standings.
Remarkably, Bresset is still eligible to race in the Under 23 category (she is 22 in June), and professes complete surprise at her strength this season. "My race was great. I don't understand what's happening to me - my second victory in two weeks! I took advantage on the downhill and then I went full gas. On the last lap, I continued my pace to keep and increase the gap."
Bresset now has an impressive 700 points, to Pendrel's 470, with Norway's Lene Byberg (Specialized) tied at 390 with the absent Ren.
Women Elite Top Ten
1 1 FRA19890609 BRESSET Julie BH - SUNTOUR - PEISEY VALLANDRY 1:28:59 250 2 5 CAN19800930 PENDREL Catharine LUNA PRO TEAM +00:41 200 3 9 ITA19850701 LECHNER Eva COLNAGO ARREGHINI SUDTIROL +01:34 160 4 10 CAN19771024 PREMONT Marie-Helene TEAM MAXXIS - ROCKY MOUNTAIN +01:48 150 5 6 NOR19821125 BYBERG Lene SPECIALIZED RACING +02:08 140 6 7 POL19831109 WLOSZCZOWSKA Maja CCC POLKOWICE +02:35 130 7 41 SLO19800311 KLEMENCIC Blaza FELT OETZTAL X - BIONIC TEAM +02:50 120 8 30 SUI19820208 LEUMANN Katrin GHOST FACTORY RACING TEAM +03:10 110 9 28 SLO19880915 ZAKELJ Tanja ORBEA GEAX +03:16 100 10 17 SUI19740319 SÜSS Esther +03:17 95
In the Under-23 race, France's Pauline Ferrand Prevot (Lapierre International) pulled away from her rivals to take her second consecutive World Cup win. The young French rider, who comes from road racing, is clearly stronger than the rest of the field, finishing 1'26 ahead of second placed Barbara Benko (Focus MIG) and recording the fastest splits on every lap. Benko holds onto the lead in the standings (Ferrand Prevot did not compete in the first round) but her lead is down to a slim ten points.
Julien Absalon (Orbea) came into Offenburg undefeated in four years, and he left in the same fashion, after a dominating performance that also put him into the World Cup leader's jersey. Jaroslav Kulhavy (Specialized), the World Cup leader coming into the race finished second, while Maxime Marotte (BH Suntour Peisey Vallandry) took third.
Absalon came to Offenburg with two second places in this season's World Cup, but he had stated earlier that he was building for this race, which he calls "the best World Cup course in the world."
Absalon's win moved him into the lead of the World Cup, 40 points ahead of Kulhavy. The 2010 World Cup Champion Nino Schurter (Scott-Swisspower) is in third, 180 points back.
Channels: UCI MTB World Cup 2011 - Offenburg GER, UCI MTB World Cup XCO 2011, Mountain Bike