Sam Sutton win adidas Sickline 2011
With his perfect run in the semifinal Sam Sutton set a new course record of 0:56,41 so that everybody was eager to see if he could keep it up in the superfinal.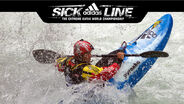 1:02:47
23.517 Views
The top 15 athletes in the adidas Sickline superfinal showed how competetive these championships have become with the kayakers ranking 2nd to 8th ending up within a second.
Michele Ramazza (ITA), 2nd in 2010 and highly motivated to move one up started off with some slick lines but rolled after a minor mistake prior a drop in the mid section that cost him the race. He ended up in 8th place (0:58,96).
"I made a very good run apart from a little mistake that took my head into the water, but I made a very good time so I'm happy. The Sickline is one of the most important races at the moment, there are so many people here and it's a really great place where everyone can push their limits."
Russian Egor Voskoboynikov (RUS) was one of the surprises of this year's event. Up in front after the qualifiers and coming more or less out of nowhere he couldn't keep it up in the final run and finished with the 9th place. "It was my main goal to make it to the final and I made it. So I already lived up my expectations before the last run."
Much the same can be said of Fabian Dörfler (GER), current World Champion in kayak slalom. After promising results in qualifiers and semis his final run didn't come together with one small mistake leading to the next. Only a quarter of a second lay between the podium and his 6th position.
Paul Böckelmann (GER) played out his fitness as a slalom kayaker and worked his way up the ladder from the 30th place in the quarterfinals, 10th in the semis to a respectable 3rd in superfinal. "I'm satisfied with my run. My goal was the podium and I made it into Top 3. I hold up the german flag this year, because there is a German in the Top 3 every year."
2010 pole-sitter and favourite Mike Dawson (NZL) really wanted to put pressure on Sam Sutton. His solid run put him in the leading position with just five kayakers to go. But none of them could beat his time of 0:58,00."After getting blown out last year, I just wanted to have a good race today. I think the rapid of the course earns a lot of respect and to hold a race of this caliber and these guys to be so close shows that the level of kayaking is stepping up every year, which is really sick."
Final starter Sam Sutton showed again how to find the "Sickline" and even topped the record he set up during the semis. A powerful start, a smooth mid section and a perfect final drop on the "Champions Killer" secured his second title in a row. With more than 2 seconds lead on his compatriot Mike Dawson he was playing another league at the adidas Sickline World Championship 2011."The top seeded person has always felt a lot of pressure and they've had a really great run but they haven't been able to put it back to back. Kind of, because it's a lot of pressure. I just tried to forget about that and to do my own thing and I'm extremely happy with my run. It's all about just trying to stay consistent and smooth through the whole thing."
Channels: Adidas Sickline 2011, Kayak