Mountain Movers: Building the world's best snow parks
The newest and most original show on Extreme Sports Channel kicks off on Friday 6th March and is set to take the winter sports world by storm!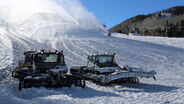 0:30
This new one-hour docudrama follows Chris "Gunny" Gunnarson and the Snow Park Technologies (SPT) team as they design and create some of the most impressive winter sports projects across the nation.
Whether creating a remote private training facility for a high profile athlete, building the perfect half-pipe for the Winter X Games, or constructing a terrain park at a major winter resort, these larger-than-life snow-sculptors battle the elements to amp up the thrill of snow sports everywhere.
This series captures the stressful and unpredictable reality of what this team of experts face every year as they narrowly escape avalanches and fight against Mother Nature as she threatens to derail their innovative projects. Each episode provides a glimpse of the insane drive it takes for this talented team to literally move mountains as these astonishing features are created out of snow and steel.
Tune in to witness the designing and planning of each project, the install challenges, and the mechanical failures in between. Each mission is awash with the passion and craftsmanship that SPT represents and owner, Gunny, demands.
These guys work a demanding job around the clock, in the most brutal weather conditions, and somehow manage to hit unrealistic deadlines. Mountain resorts, event producers and world-class athletes know that Gunny and his SPT crew are the best at what they do. No one understands how to move and shape the snow like this team.
Don't miss the chance to go behind the scenes and see how they do it with Mountain Movers, every Friday at 9am, 3pm and 8pm – only on Extreme Sports Channel!
Channels: Extreme.com, Freeski, Snowboard