Simple Session 13 - Dates Announced
The annual Simple Session BMX and skateboarding contest, one of Europe's most anticipated action sports events will go down on 16 - 17th of March 2013 in Tallinn, Estonia.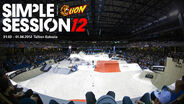 3:03:18
Dates in detail: 14-15th March: Practice Sessions 16th March: Qualification rounds 17th March: Finals 18th March: Contest Park Open Day Side events: 4-day club program, film screenings & art shows
For years, Simple Session has been the highlight of Europe's BMX and skateboarding contest calendar, reaching a global audience through its massive media coverage.
Simple Session will once again be hosting around 200 top athletes from around the world at Saku Arena, including an impressive line-up of the most established riders in the business as well as new talents and up-and-coming top riders in the disciplines of BMX and skateboarding street/park.
The event will be broadcast LIVE in high definition and with a live scoring system.
The Simple Session 12 webcast, which was live on extreme.com, attracted record breaking viewer numbers reaching a staggering one million unique viewers within the two days of the event.
If you weren't one of the million, then watch the replay and highlights of Simple Session 12 right here.
Channels: Simple Session 2012, BMX, Skateboard