FISE World Montpellier 2015: LIVE Schedule
Even though X Games is the most famous action sports event in the world, it has struggled to expand its reach beyond American borders. They cancelled events in Brazil, Europe and Asia a few years ago and are only just considering a return across the pond.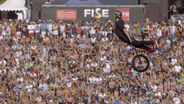 1:29
FISE World Montpellier 2015 Trailer
624 Views
But the rest of the world hasn't been lacking world class contests thanks to the always-epic FISE World Series. This week, the 2015 tour kicks off where it all began - Montpellier.
The event lasts five days, celebrates five unique sports (Skate, BMX, Wake, MTB, Roller and more), attracts 500,000 loyal fans each year and is not to be missed. But if you can't make it to France, then don't panic. Almost everything worth watching will be broadcast LIVE on Extreme.com.
Highlights include the FMB World Tour Gold event on Friday, any of the BMX Park contests and, of course, the rare chance to watch the best Roller and Wakeboard pros battle it out on the biggest stage.
Scroll down to see what else is on and enjoy!