X Games Aspen: Day 1 - Bowman three-peats in Ski SuperPipe
2015 event gets underway with snowy ski SuperPipe final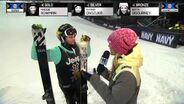 1:58
X Games Aspen 2015: Maddie Bowman wins Ski SuperPipe Gold
155 Views
Maddie Bowman kicked off X Games Aspen 2015 by winning her third-straight gold medal in Women's SuperPipe.
The Olympic champion continued her recent domination of the event by seeing off competition from Japan's Ayana Onozuka and fellow American Brita Sigourney.
Bowman is now the only female skier since Sarah Burke to win three consecutive X Games gold medals.
And after her final run she dedicated the win to legendary halfpipe skier Burke who tragically died from a head injury in 2012.
"It's crazy. I feel really honoured. Every time we go out skiing we just try to make her proud and I hope we made her proud tonight," said Bowman.
"I think the girls skied amazing tonight and we're going to continue to push the sport in Sarah's name."
The result is particularly pleasing for the 21-year-old Bowman after she underwent knee surgery in April last year.
But the injury never seemed to hold her back and she now boasts an brilliant record of six wins in her last eight events – missing the podium just once.
And her superiority was on show again last night in Aspen as she spun two 900s in both directions to earn a top score of 85.66.
Onozuka was just behind with 83.33, while Sigourney posted a score of 78.66, as Bowman topped the podium again, taking her X Games medal haul, which also includes silver in 2012 and bronze at Tignes 2013, to five overall.
Day 2 of X Games Aspen will see medals given out in Mono Skier X, Snowmobile Speed & Style and Men's Snowboard SuperPipe – the highly anticipated return of Shaun White.
Qualifying also gets underway in Men's and Women's Snowboarder X and Men's Ski Slopestyle.
Check back tomorrow for all the latest news, results and highlights from X Games Aspen 2015.
Channels: Auto Sports, BMX, FMX, Freeski, Kayak, Kitesurf, Mountain Bike, MX, Outdoor, Skateboard, Snowboard, Surf, Wakeboard, Windsurf