GoPro HERO3 - The latest HD camera
It was this time last year that GoPro announced the HERO2 and the action sports world collectively lost their shit about how awesome it was, so following that success it makes sense that GoPro do the same thing with the HERO3. Get ready to very excited indeed.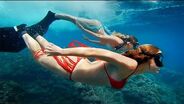 5:08
GoPro HERO3: Black Edition - Smaller, Lighter and 2X More Powerful
5.324 Views
There are three versions of it; White, Silver and Black. Unlike previous years where the amount you spent was dependant on the package of goodies you wanted to come with the camera, the price of the three versions of the HERO3 is also dictated by the quality and features of the camera. The White Edition is classed as consumer standard, the Silver Edition is Prosumer and the Black Edition is the professional one. Seeing as that's the best one, we'll look at that -
The Wi-Fi enabled HERO3 Black Edition is the most advanced GoPro, ever. No expense was spared during its development, resulting in a GoPro that is 30% smaller, 25% lighter and 2x more powerful than previous models. Wearable and gear mountable, waterproof to 197' (60m), capable of capturing ultra-wide 1440p 48fps, 1080p 60 fps and 720p 120 fps video and 12MP photos at a rate of 30 photos per second, the HERO3: Black Edition is the world's most versatile camera. Built-in Wi-Fi, GoPro App compatibility and the included Wi-Fi Remote make the HERO3: Black Edition all the more versatile, still.
There are a whole shed load of accessories to go with it too, from the standard ones that you would expect to the very nice looking new 'frame' clamping system and LCD Touch BacPac.
Key Benefits

Wearable, mountable design
Immersive, wide angle capture of your favorite activities
Professional quality HD video & 12MP photos
Built-in Wi-Fi enables remote control via included Wi-Fi Remote or live video preview and remote control on smartphones and tablets running the free GoPro app.
Rugged housing is waterproof to 197'/60M and captures sharp images above and below water
Compatible with all GoPro mounts for attaching to gear, body, helmets, vehicles and more
Compatible with LCD Touch BacPac™ and second generation Battery BacPac™
Backwards compatible with older generation BacPacs™
New advanced camera settings: Looping video, Continuous Photo, Manual White Balance control, Protune Mode, allows to shoot photos while recording video and more.
Key Specs

Professional 4k Cinema 12 fps / 2.7k cinema 30 fps / 1440p 48 fps / 1080p 60 fps / 960p 100 fps /720p 120 fps and more video capture
12MP photo capture with 30 fps burst
Wi-Fi Built-In
Wi-Fi Remote Compatible (included)
GoPro App Compatible (FREE)
97'/ 60m Waterproof Housing*
Assorted mounts and hardware included for attaching to helmets, gear and more
Channels: GoPro, Auto Sports, BMX, FMX, Freeski, Kayak, Kitesurf, Mountain Bike, MX, Outdoor, Skateboard, Snowboard, Surf, Wakeboard, Windsurf